Bar
After spending and unforgettable day full of many fresh and interesting emotions, you'll probably need to be relaxed, and make your evening more fun and positive, so "Royal Plaza" hotel offers to come and spend the evening at the bar of the hotel. The bar has a stunning design, and high quality service. The widest range of alcoholic and non-alcoholic drinks and snacks can be found here at any time of the day.
The bar is designed in a way so you can enjoy your evening with your friends and acquaintances, or you can enjoy your privacy, without having anyone around you.
Open-air Cafe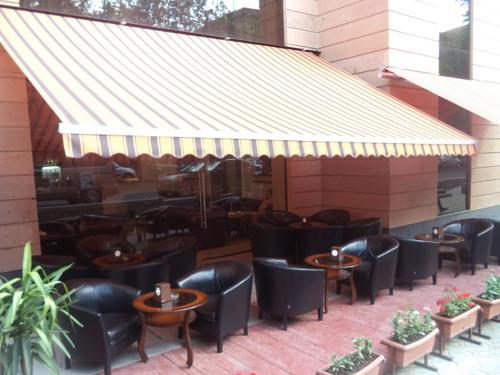 From now on You can visit Royal Plaza Hotel not only to book a room, to stay in the hotel, but also You can gather with Your friends in our new opened sidewalk-open air café to have a nice time in a cozy, well-maintained and overall flowered atmosphere over a cup of Armenian coffe, Armenian herbal teas or Armenian and even Italian, French wines and cocktails.
In our café You can come up to Armenian fresh air, Aarmenian warm hospitality mixed with Italian interior and with International drinks and snacks.